Jian has finished his Ph.D. and reserach work at ARMA and immediately joined Intuitive Surgical. Congratulations Jian !
In June 2010 the NIH published an article about our ongoing project on designing future generation technology for single port access surgery. The article can be access HERE.
In February 26 2009 the NSF has funded Dr. Simaan's Career grant. This 5-year grant aims at designing new algorithms and continuum robots for safe interaction with the anatomy. A description of the project is available HERE.

Wei Wei and Jian Zhang: Two more Ph.D. graduates join the ARMA Alumni
Dr. Wei Wei and Dr. Jian Zhang graduated with destinction. They join Dr. Kai Xu to make the group of the first Ph.D. students to graduate from ARMA. Due to the tremendous talents and effort Wei, Jian, and Kai distinguished themselves through quality publications. Below are some pictures from 2010 May 14 convocation. Congratulations Drs Wei Wei & Jian Zhang.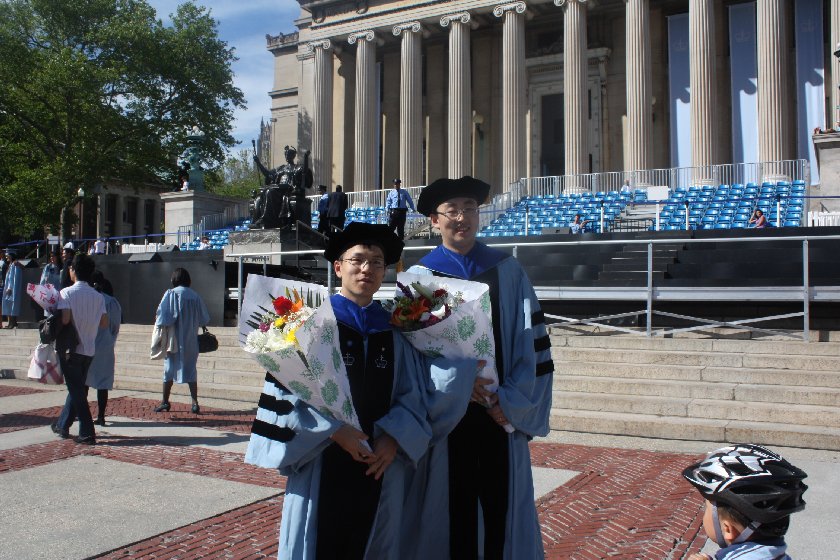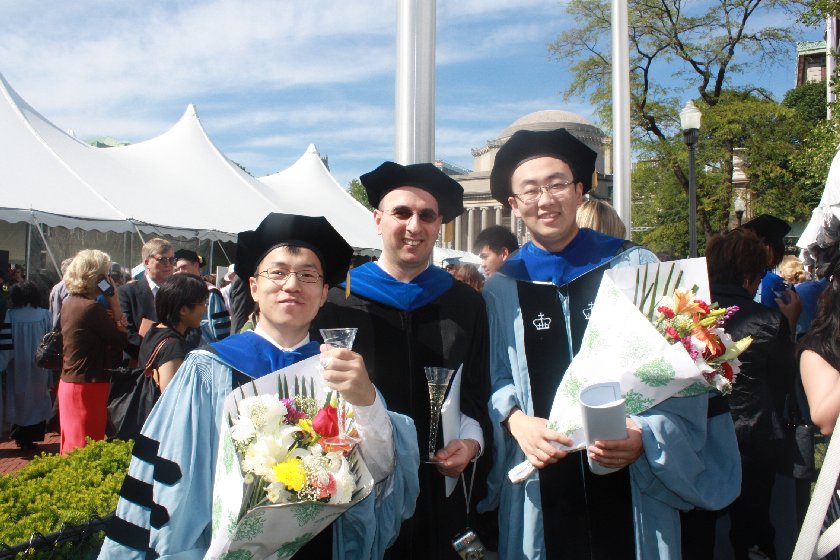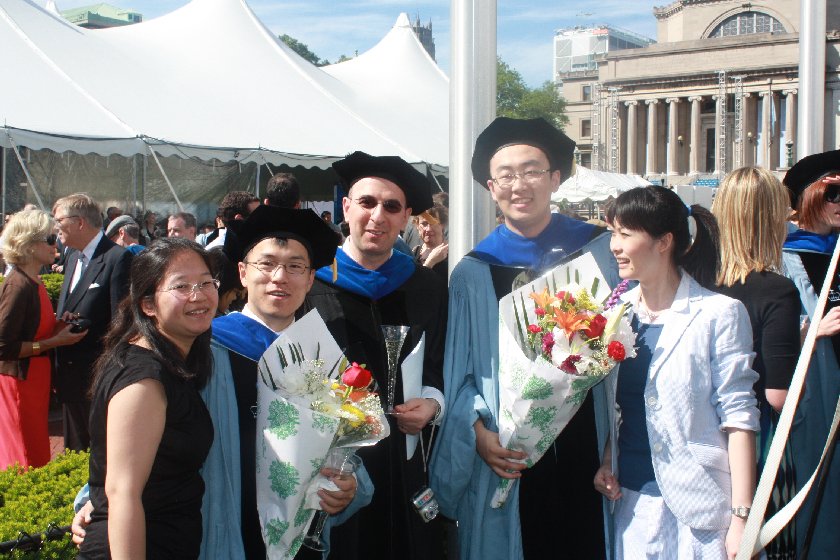 February 25 2009: Kai Xu wins the China Scholarship Award: Chinese Government Award for Outstanding Self Financed Graduate Students Abroad. Congratulations Kai.
Dr. Kai Xu passed his thesis defense exam on 8/5/2009. His thesis exam committee included his advisor Professor Nabil Simaan as well as Professor Richard Longman. Professor Peter Allen from the department of Computer Science and Dr. Dennis Fowler from the Department of Surgery.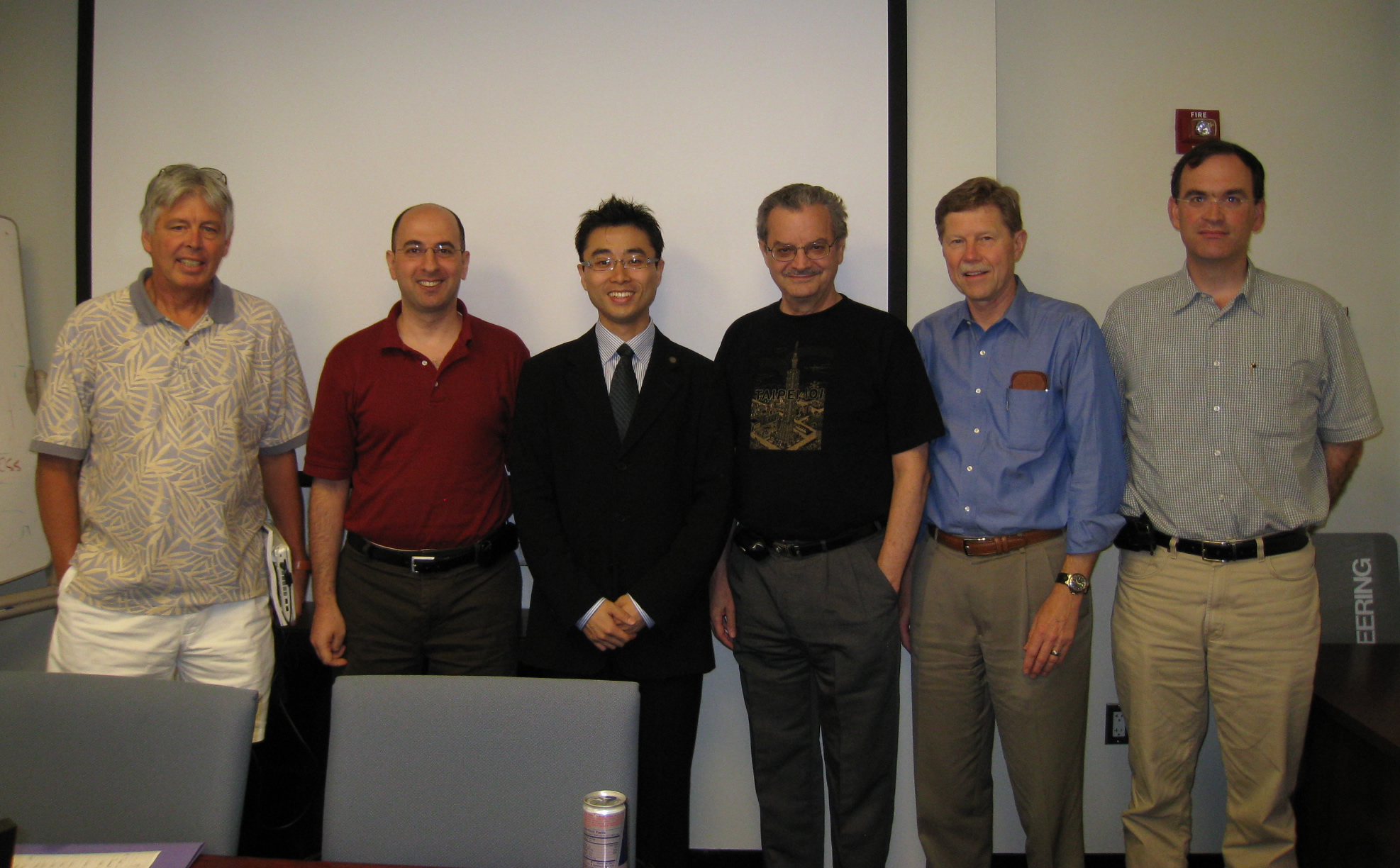 Kai's picture with his Ph.D. dissertation committee.
From Left to right: Dr. Allen, Dr. Simaan, Kai (now Dr. Xu :-)), Dr. Longman, Dr. Fowler, Dr. Kysar
His thesis titled ""Design, Modeling and Analysis of Continuum Robots as Surgical Assistants with Intrinsic Sensory Capabilities" included a thorough study of the experimental and the theoretical aspects of flexible continuum robots for surgical applications.
Dr. Xu was unianimously nominated for an Award of Distinction by his thesis exam committee for a thesis that is uniquely outstanding in its breadth, depth, originality, and rigor.
On August 21, 2009, Dr. Xu will leave ARMA to join as an Assistant Professor at the University of Michigan-Shanghai Jiaotong Joint Institute.
ARMA members wished Kai the best of luck pursuing his future career in a farewell party. Here are some pictures: