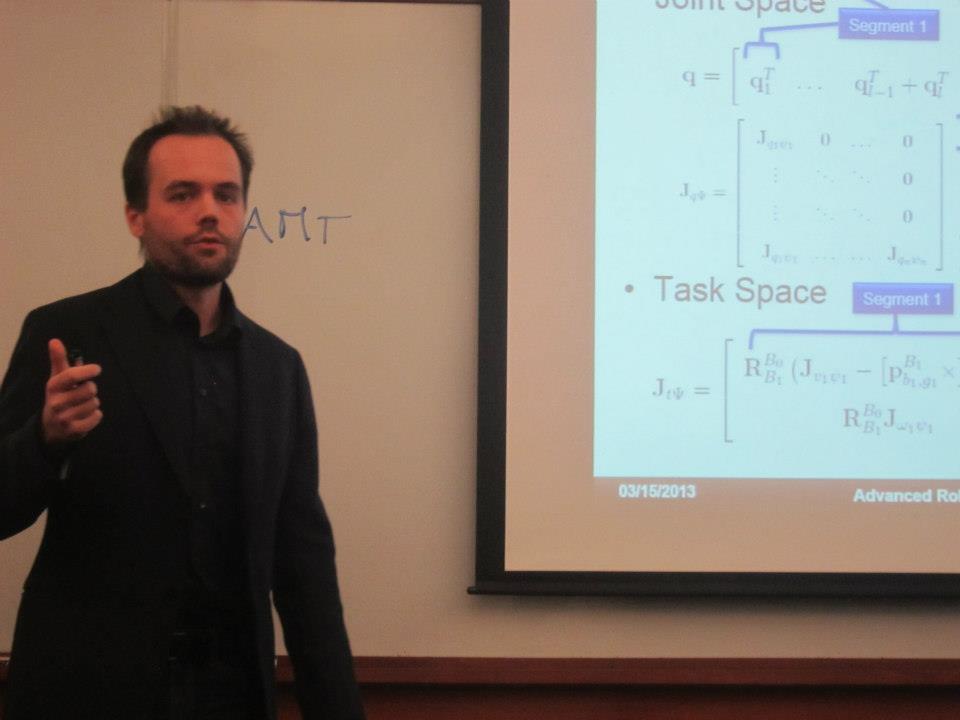 Andrea Bajo successfully defended his Ph.D. dissertation on 3/15/2013. His dissertation titled "Control, Sensing, and Telemanipulation of Surgical Continuum Robots" presents contributions in the areas of contact detection and estimation of contact location for continuum robots, hybrid force/motion control for continuum robots, and constrained telemanipulation of continuum robots. Algorithms developed during his Ph.D. research were implemented on several robotic platfroms including the single port access surgical system (the IREP), a novel robot for trans-urethral bladder tumor resection, and a robot for micro-surgery of the upper airways.
Andrea started his journey with ARMA as a visiting undergraduatre student in summer of 2007. He returned to ARMA as a masters student in 9/2008 and has been with ARMA since then. He has contributed to the development of several robotic systems in the lab and assisted in developing research plans for natural orifice surgery in several application areas including Urology, otolaryngology, and trans-abdominal single port access surgery.
ARMA announces two open positions for high school science teachers:
As part of our NSF mandate to disseminate the results of our research we are seeking to interface with two local high school teachers during the summer of 2013. The purpose of the RET supplement is to provide two local science teachers with research experinece and to work with them to define new teaching module within the STEM areas. Note that the application deadline is March 15 2013. The following files provide more details about these positions:
The preferred way of returning these forms is by email (fill, sign and scan/attach to the email). Please make sure to use "RET supplement" in your email subject header and also copy
.  If you prefer to fax the application form please make sure to indicate that the fax is for Dr. Nabil Simaan since this fax is our departmental fax 615-343-6687.
ARMA presented the IREP (Insertable Robotic Effectros Platform) at TEDMED 2011 in San Diego. Andrea Bajo and Nabil Simaan traveled to present a demonstration of this new system as part of a university campaign presenting collaborative works between engineers and surgeons.  Here are some photos form our experience at TEDMED:
We unpacked the robot and started a workshop in a 5
star hotel :-)
Andrea Bajo assembling the demo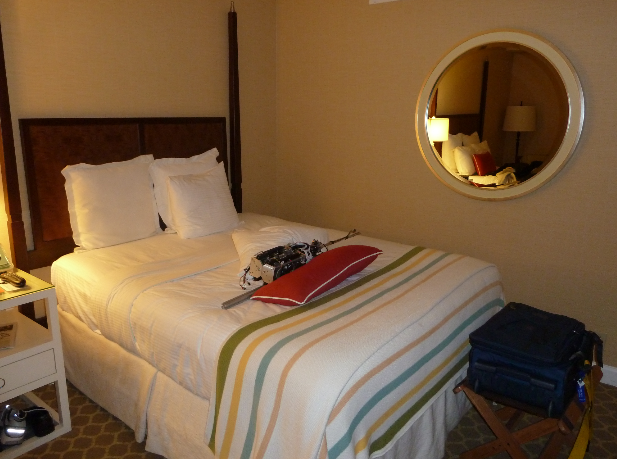 At the end of the day the IREP got some good night rest
ARMA members recieved best medical robotics paper finalist certificates for the paper Integration and Preliminary Evaluation of an Insertable Robotic Effectors Platform for Single Port Access Surgery BY Andrea Bajo, A., Roger E. Goldman, Long Wang, Dennis Fowler,  Nabil Simaan.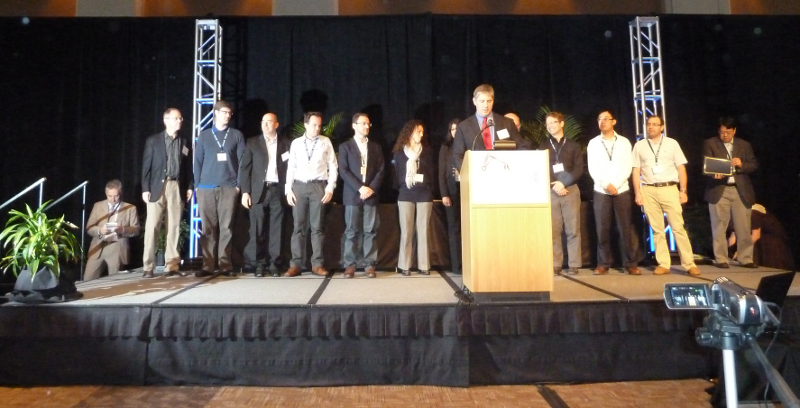 ARMA also presented a first collaboration paper with CMU's Biorobotics Lab: Constrained Filtering with Contact Detection Data for the Localization and Registration of Continuum Robots in Flexible Environments by Stephen Tully, Andrea Bajo,George Kantor, Howie Choset, Nabil Simaan.
In September 2011 Dr. Jian Zhang and his wife Weiwei Chu donated a $1000 gift to ARMA lab to support eductaion and reserach activities and to encourage outstanding graduate students who exhibit outstanding academic acheivement during their academic career.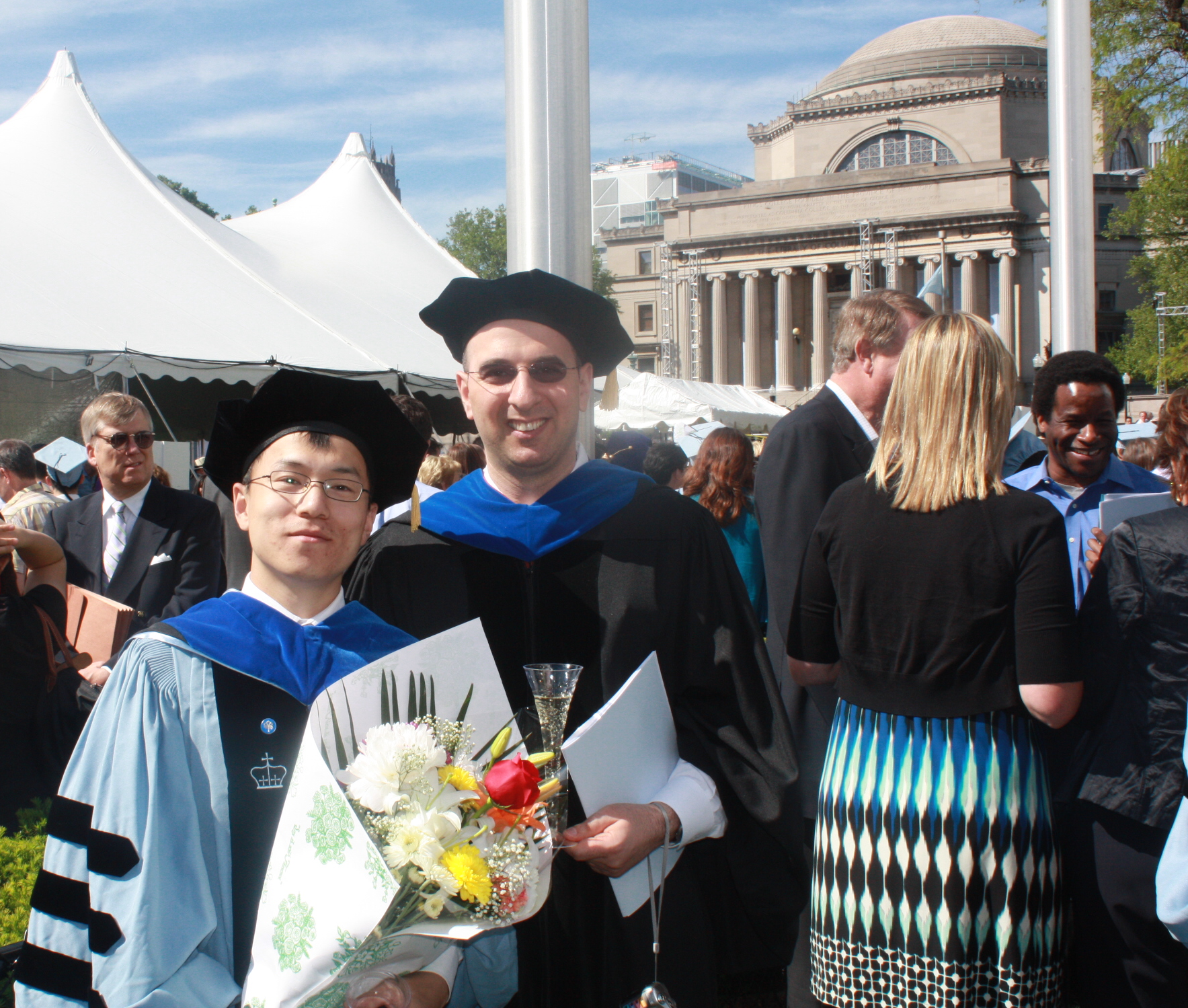 In 2010 Dr. Jian graduated from ARMA earning a Ph.D. degree with destinction. His Ph.D. reserach area focused on the design of steerable electrode arrays and methods of electrode insertion for Cochlear Imnplant Surgery. He has published several journal papers and conference papers in the area and helped strengthen ARMA's lead in medical robotics. He joined Intuitive Surgical in 2010 after his graduation. He is responsible for developing new medical robotics technologies for future ISI products.
Dr. Jian's success and generosity in giving back to ARMA set a wonderful presedence towards supporting the lab activity.
ARMA lab has recently licensed its technology for single port access surgery to Titan Medical Inc.
Titan also signed a short term research agreement with ARMA to assist with the evaluation of potential and performance of the IREP robot.
More details about this are available in the press release and the second press release.