Written by Nabil Simaan
Tuesday, 21 December 2010 13:34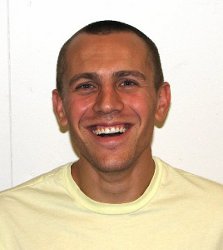 Roger Goldman
MD.-Ph.D.
Deptartment of Mechanical Engineering
Columbia University
Lab: 245 S.W. Mudd Building
Tel: 1-212-854-7715
Email: This e-mail address is being protected from spambots. You need JavaScript enabled to view it
Webpage: http://www.columbia.edu/~reg2117
Research Interests:
Robotics in Medical and Surgical Applications
Education:
2005 to present: Medical Scientist Training Program, Columbia University
1997 to 2001: Bachelor of Science, Mechanical Engineering, Stanford University
Industry Experience:
2003-2005: R&D Engineer, FoxHollow Technologies
Personal Interests:
Skiing, Surfing, Traveling
Publications:
Wei, W., Goldman, R., Fine, H., Chang, S., Simaan, N., "Modeling and Performance Evaluation of Hybrid Multi-Arm Robots Operating on Hollow Suspended Organs", accepted, IEEE Transactions on Robotics (TRO) , to appear in the February issue, 2009.
Copyright © 2018 Advanced Robotics and Mechanism Applications Laboratory, Vanderbilt University. All Rights Reserved.